---
---
OVERVIEW
The Elite Mid Insoles feature Footprint's iconic impact protection. With enhanced performance from heel to toe, these insoles will keep feet happy, so you can skate for longer.
FEATURES
Key Features
Kingfoam
Determining Your Foot Type
Details
absorbs 90% of the impact energy
mid profile: 5 mm toe, 7 mm heel
thick skin encases foam for extreme durability
FluidX Protection - same formula used by NASA
nano technology energy absorption
DuraWeave-reinforced fabric top layer
recommended for all foot types
ASTM F 1614
Will Barras signature soles
KEY FEATURES
Kingfoam - All Footprint soles are covered from heel to toe with Kingfoam, a military grade urethane that converts the force of impacts into heat. Absorbs 90% of impact energy and protects against bruises and joint damage.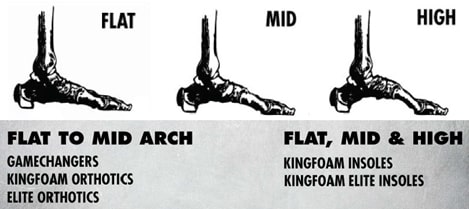 ---